The historical memory of the Jesuits in Italy
The Historical Archives of the Jesuit Euro-Mediterranean Province preserve the records of six former Jesuit Provinces, residences, colleges and journals in Italy from 1814 onward.
Find out who we are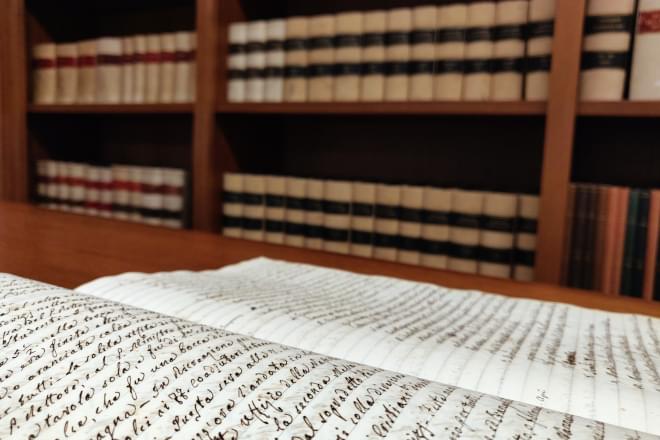 Curiosities and news
There were indeed numerous subjects studied by novices and scholastics on the way to becoming a Jesuit. Not only the Holy Scriptures, canon law and Church history, but also Latin,… Read more
For many fathers and brothers the vocation came at an early age. Sometimes letters survive from the aspiring novice asking to enter the Society, telling of his vocation. Today we… Read more
What roles could a laywoman play in the Catholic Church in the 20th century? Very few examples come to mind, which do not stray very far from the role of… Read more
Those living a vocation today are adults, often having finished their studies years ago: some leave important jobs, others feel the call early but need to mature the decision for… Read more
Today we take a closer look at the statement often found at the foot of some letters that bear a simple sign of the cross instead of a handwritten signature.… Read more
Licence, in the military, refers to the period granted to the soldier outside the barracks or away from the front line, while for today's Jesuits it is mainly used to… Read more
Among the last unexplored parts of the earth at the beginning of the 20th century was the North Pole. Few people know that a Jesuit also took part in one… Read more
Music did not remain outside the walls of the novitiate, as one might perhaps think, but was an integral part of the novices' lives and their training. At Galloro, where… Read more
Life in the fortress of Fenestrelle, 50 years before the facts narrated by Alessandro Barbero in "I prigionieri dei Savoia" ("Prisoners of the Savoy")
Doing the shopping for oneself or for a family involves a certain degree of organisation, just think what it meant, at the end of the 16th century, to do it… Read more
Two years later, the archive column returns to the subject of Pope Pius X, and today we present another relic of the Holy Pontiff.
2020 marks the 80th anniversary of Italy's entry into the war in June 1940. Today the column presents some objects and their history, which belonged to Fr. Pietro Alagiagian.
Curiosities
Relics of saints and venerables, distinguished alumni of our colleges, evidence of customs and traditions in other historical periods: here is a selection of interesting documents from our Archives.